The Glass Container Soy Massage Candle is my best selling candle. Choose the blend of essential oils you would like from the list below. Made with Soy wax, shea butter, essential oils, cotton wick. Keep wick 1/4" for longer burning time.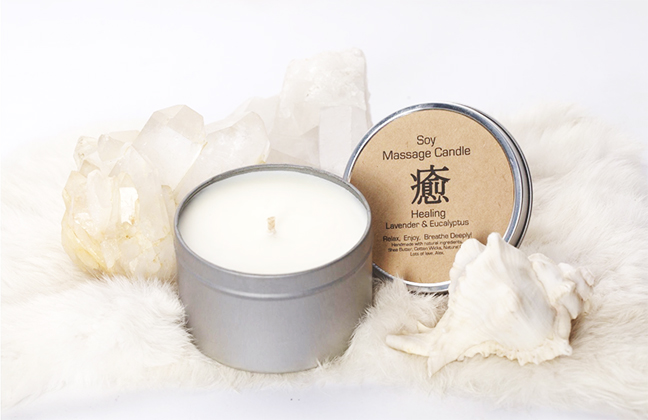 If you travel you will love our Soy Massage Travel Tins. They are fast becoming our best selling candle because of their convenience, portability, and like the glass containers above they are enriched with shea butter and can also be used as a massage oil.
My Soy Massage Candles and my Organic body Butters are individually hand poured in small batches in my studio in Playa del Rey, California.
I use only the finest essential oils, soy wax and shea butter, that is why the melted oil can be enjoyed as a warm nutrient rich lubricant on your skin.
My soy candles are non toxic, have cotton wicks, burn longer, and don't emit nasty black soot, making them superior in many way compared to the traditional paraffin petroleum based candles on the market today!
My Soy Massage Candles are priced well below market value for a high quality hand poured candle, but most importantly
they are made with lots and lots of LOVE !
Alex.
Wholesale and Private Label Available. 310 – 980 – 1514